When was the last time you scheduled basement waterproofing for your property? If it's been years, or you can't remember the last time anyone waterproofed your space, it's time to call! Waterproofing is an excellent investment for any residential or commercial property. This process protects wood framing, drywall, and concrete from cracking, spalling, and other costly damage.
However, you might still be wondering if waterproofing adds value to a property. After all, added value means recouping some costs on a home improvement project! With that in mind, consider some added details about basement waterproofing and if it increases home values.
Does Waterproofing Your Basement Increase the Value of Your Home?
You can expect to recoup about 30% of your waterproofing costs in terms of increasing property values. In other words, expect your property values to increase by $300 for every $1,000 you spend on waterproofing. Potential buyers appreciate the added protection offered by waterproofing, so they might pay more for waterproofed homes.
While 30% might not sound like the best return on an investment, this isn't the only financial advantage to waterproofing! Before you decide that the service isn't worth the cost, consider some added reasons to schedule waterproofing. You can then discuss this choice with a foundation contractor near you as needed.
Waterproofing keeps damaging moisture away from foundation concrete. In turn, that foundation might last longer than if you didn't have it waterproofed!
Leak patching services usually include a waterproof coating. These services keep cracks and other damage from spreading. Consequently, your eventual repair costs are far lower if you invest in timely waterproofing.
Never finish your property's basement without first waterproofing the space. Remember that it doesn't take much moisture to damage drywall, carpeting, and other materials. In addition to unsightly water stains, that moisture can crack drywall and loosen flooring adhesives.
Additionally, waterproofing keeps out moisture that risks mold growth! Not only is mold unhealthy but cleanup is often costly. Accordingly, waterproof coatings save you the cost of mold removal and damage repairs.
What Happens If You Don't Waterproof a Basement?
If you're not convinced that waterproofing is an excellent investment, consider what might happen if you don't waterproof a basement! First, concrete walls and floors might absorb moisture, risking cracks and leaks. Second, moisture seeping into the home often means mold, mildew, stains, wood rot, rusted appliances, and more.
Also, consider that a damp, musty basement creates unpleasant odors that might seep into the entire home. Additionally, that dampness can affect anything stored in the basement, including appliances and personal items. A home's exposed subflooring might also absorb that moisture, risking cracks and warping. When trapped underneath carpeting on the first floor, this risks mildew and ruined fibers and backing.
All of these issues are not only unpleasant but they're very costly to repair. In turn, consider that waterproofing is cheaper in the long run! Waterproofing services are a great investment because they improve property values while protecting interior spaces as well.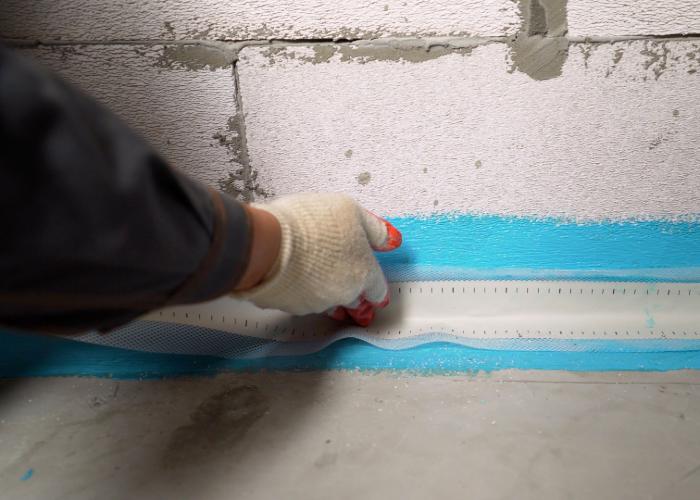 Is It Better to Waterproof a Basement From the Inside or Outside?
While interior waterproof coatings are useful, exterior waterproofing offers the most protection. After all, there is usually more damaging moisture outside your home than inside! While exterior waterproofing is more expensive, it also lasts longer than store-bought interior coatings. Waterproof membranes repel water more thoroughly than interior sealants, for higher-quality protection.
Additionally, note that a foundation contractor might spot concrete damage when excavating and waterproofing. In turn, you can patch up cracks and leaks before he or she applies waterproofing membranes. As a result, your home stays strong and stable and avoids structural damage.
Should I Waterproof My Basement Before Selling?
There are many advantages to waterproofing a basement before putting a home on the market, including:
Homes with maximum living space draw more buyers and higher offers. Waterproofing and basic basement finishing help increase your home's usable square footage. In turn, you might get more lucrative offers after basement waterproofing.
Waterproofing helps avoid dampness, musty odors, and other unpleasant issues that might drive away potential buyers.
Note that waterproofing helps avoid basement wall cracks and other foundation issues that might also discourage potential buyers.
Even if you don't finish the space, a fresh paint color can make the basement look more appealing to buyers. Since waterproof coatings help protect paint from peeling and chipping, consider this step before painting basement walls and floors.
Note, too, that a project like waterproofing communicates to buyers that you maintain your home as needed! In turn, they might be more inclined to consider your home versus one that's been neglected over the years.
What's the Average Cost to Waterproof a Basement?
According to Bob Vila, basement waterproofing might cost anywhere from $2250 to $7000. The national average for basement waterproofing is $4500. When charged by the area, expect to pay between $5 and $10 per square foot.
If this cost is still out of your price range, you might consider waterproof coatings you can apply yourself. Concrete coatings might run about $200 per 5-gallon pail. Waterproof paint might cost around $50 per 5-gallon pail. One gallon of these coatings might cover 250 to 400 square feet.
How Long Does Basement Waterproofing Last?
Most waterproof membranes last about 10 years. However, this lifespan depends on soil conditions. For example, improper grading can mean excess moisture collecting around a foundation. In turn, that membrane might break down sooner than it should.
Also, consider that higher-quality materials tend to last longer than low-grade options. Consequently, you'll want to invest in name brand options with a proven track record of durability for your home. In the end, you'll enjoy a clean, dry basement for many years and improved property values as well.
Springfield Foundation Repair Experts is happy to provide this information about basement waterproofing to our visitors. Hopefully you found it helpful in deciding about waterproofing for your property! If you still have questions, don't hesitate to contact our Springfield foundation repair contractors. We offer expert services including crack patching, leveling, and waterproofing. To find out more, give us a call today.