Are your floors sagging? Are cracks appearing in the walls? Has it gotten more difficult to close windows or doors? These are all signs that your foundation may be failing and you need foundation repair, but they're also all easily remedied with a little bit of foundation repair know-how. This guide will help you figure out if you need foundation repair for your home and provide information on what kind of damage to look out for and how to remedy it before it becomes too serious.
Living in a house with foundation problems
Foundation settling, cracking and uneven floors may appear as cosmetic issues, but they can lead to structural damage. By closely examining your foundation, you may be able to identify some of these warning signs that suggest you need foundation repair before further serious damage is done.
Foundations are considered an integral part of a home. The foundation supports everything above it and keeps your house stable, so it's not just cosmetic work. It's important to address any problems quickly, because ignored foundation problems can lead to further damage in other areas. By taking preventative measures when you notice certain signs that indicate you may need foundation repair, you can save money on more expensive repairs in future years. 
If you have foundation problems, you may need to find somewhere else to live until repairs can be made. Structural issues not only puts your home in danger, but can put the lives of anyone inside the structure in danger. Repairs are often costly and time-consuming—if you're interested in avoiding a more extensive cost later on, it might be worth having these fixes done as soon as possible. 
How do you know if you need foundation repair?
To figure out if you need foundation repair, first ask yourself if you notice any of these issues. If you do, it's time to get a professional opinion. Here are some common warning signs that your home may need foundation repair.  
Excess moisture in your basement or crawlspace can cause wood to rot, mold growth, damaged ceilings and water damage to walls and floors.
Cracks and Sagging - the most obvious indication that you need foundation repair is cracks on exterior walls or sagging floors. Cracks also typically mean more severe structural problems exist underfoot which can lead to further deterioration in your home's foundation.
Settling - sagging or uneven floors, doors and windows that stick, popping sounds or cracks in walls are all signs of settling. If you notice these issues, it's important to see if your home is experiencing settlement.
When should I be worried about foundation cracks?
Is there mold growing in your home? Does water appear to be flooding your basement? Are there visible cracks in your foundation walls? If you can answer yes to any of these questions, you need to get a professional inspection. These are signs that can indicate problems that go far beyond cosmetic damage and may call for structural repairs.
If you've noticed a few small cracks, it doesn't necessarily mean your foundation is damaged. And cracks aren't always a sign of an impending home disaster: Some can simply be cosmetic and can be repaired with caulk. On the other hand, if you see any of these signs—or have already had foundation repairs in the past—it could be time to call a professional for a comprehensive inspection.
Cracks in your foundation can be an early warning sign of more serious issues, such as shifts in your house or concrete. While a few small cracks can be cosmetic and aren't a cause for concern, it could signal that you have other foundation issues to address.
Best foundation repair methods
Underpinning and stem walling are two of the most common foundation repair methods. Underpinning is performed by using steel reinforcing bars, or rebar, to underpin weak soil or support a failing structure. Underpinning can also be used to help solidify soil that has been damaged during excavation work, though it is typically not as strong in such cases. Stem walls are constructed from concrete or brick and can extend from below ground level all the way up to a sill plate for increased stability.
Deciding which method to use will depend on a variety of factors, including soil conditions and available budget. If you're looking for a cost-effective solution, underpinning is often your best bet since it involves removing some existing foundation material to rebuild it further into the ground. In some cases, such as when correcting unstable soil, complete removal may be necessary.
Ignoring foundation issues
When it comes to foundation problems, don't ignore them! Doing so could cause major damage that costs thousands of dollars to repair. Contact a professional contractor right away if you notice any signs of foundation trouble. They'll be able to perform an inspection and provide you with an accurate diagnosis—saving you time and money down the road.
The signs of foundation issues are often subtle, so you may not notice any problems until you've suffered significant damage. Some common foundation warning signs include cracks in your walls or floors, cracked windows and doors, bricks that shift when tapped, mold growth under sinks or toilets, floor heaving and even sagging floors. If you see any of these issues at home—or if your neighbors are reporting similar problems—consult a pro right away!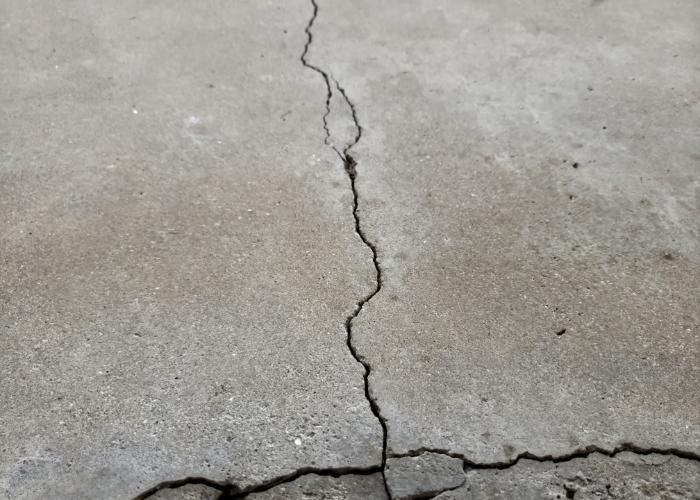 Fixing slab foundations
Once a foundation begins to sink, it will never return to its original condition. The only way to fix it is by tearing out and replacing sections of flooring and sheetrock that have sunk over time. During a home inspection, you should look for signs of sinking foundations, cracks in walls or floors, bowed floor joists and bulging walls. If your home suffers from any of these issues, you may need to hire a foundation repair contractor to fix your home's foundation.
Insurance
If you have only a personal-liability policy and not a homeowner's policy, you might be out of luck. Because homeowner's policies are designed to protect real estate investments, they typically include insurance for structural damage caused by things such as fire or wind, but not always earth movement.
If you have a home-insurance policy, make sure it covers foundation problems and has sufficient limits on claims. If not, consider adding an endorsement to your policy. A typical policy usually covers up to a few thousand dollars to repair foundation damage, but if water leaks into your basement or walls fall off, a few thousand dollars might not be enough. Home Advisor states the average cost for foundation repairs is $4,665, but can quickly exceed that when it comes to foundation issues.
Our team at Springfield Foundation Repair Experts is the local company you need. Give our foundation repair contractors a call and we'll put you on the schedule for a foundation inspection ASAP!